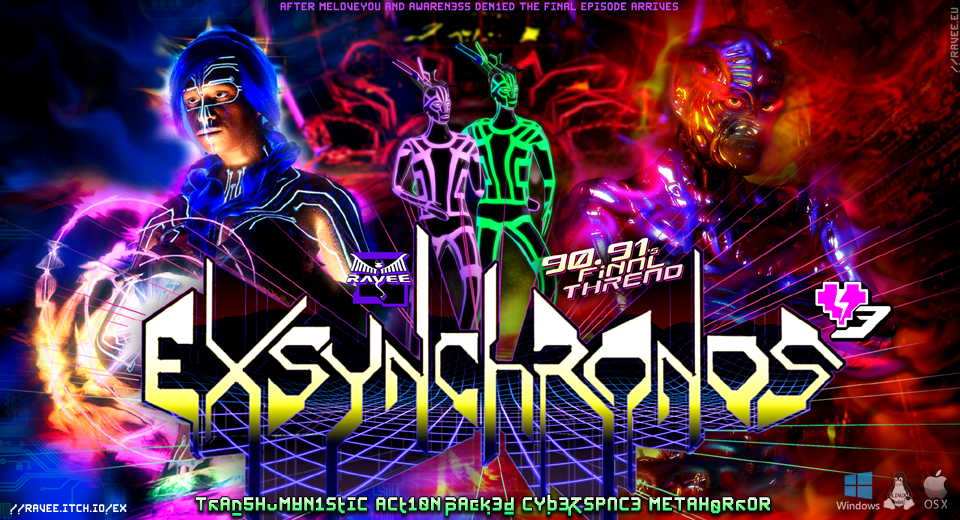 EXsynchronos
Update Bugfix .06

Combat/Battle-Mode CameraRenderCrash:
This was a rare bug that got caused by switching between Modes. On some systems the switch mechanism caused an error in the cameras render pipeline that lead to a full crash of the cam view renderer. One view got lost and the view overwrite mechanism messed up. Sometimes it was just the view switch mechism that crashed. I rewrote the code for the whole mechanism, additionally i've put a frame controlled security mechanism around. I did a stress test but wasn't able to crash it again.
But if you run into that kind of bug, please contact me.
GameWindow lost focus Bug:
That's a usual Unity thing that happens when you step out of the GameWindow it still reacts to your mouse movement in some cases. If you step back into the GameWindow >>please CLICK a few times<< that the Game can catch the mouse curser again and recalculate its correct position.
EasyMode Enemies:
One Kind of Enemy did not set down its energy when playing in EasyMode. Fixed.

EasyMode Clockwork Puzzle:
The amount of tubes to destroy didn't change on EasyMode. Fixed.

PauseMenu StickyCursor:
Interaction symbols visible in PauseMenu. Fixed.
If you run into any kind of bug, it would be nice if you contact me on tumblr or twitter (if possible) and tell me what happened including your system configuration. I'm thankful for any help to fix and improve the game.
Thank you ✌