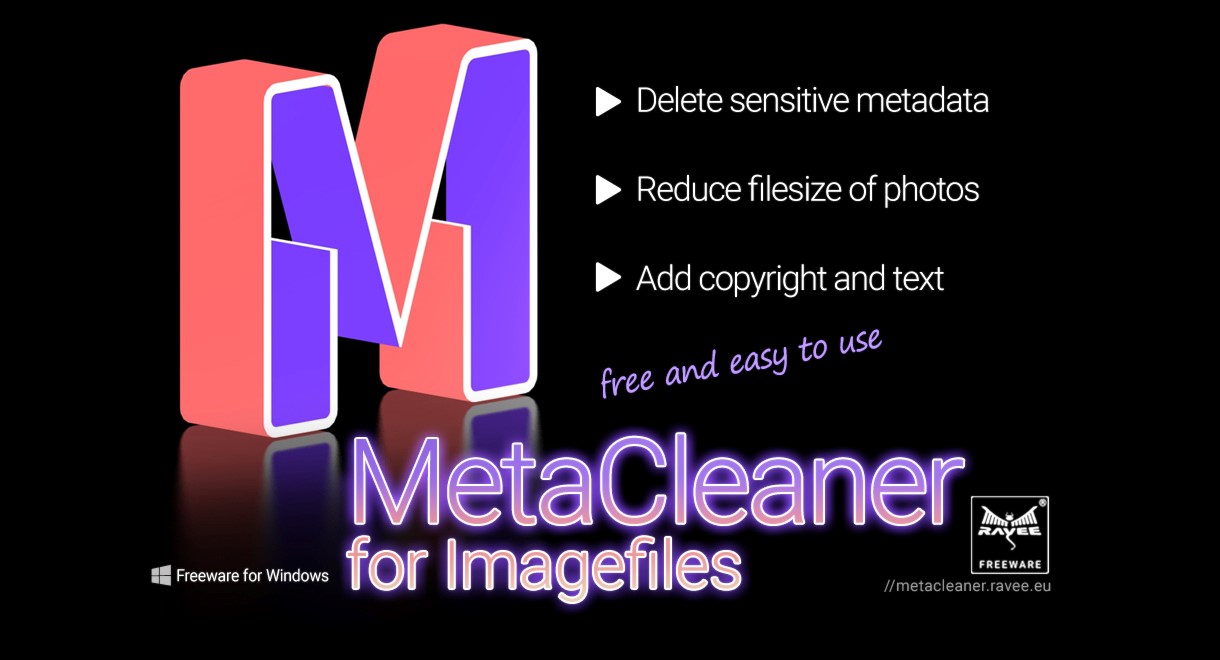 MetaCleaner for Imagefiles
A downloadable tool for Windows
MetaCleaner is a free and easy tool to remove hidden meta data in pictures.

Modern cameras, phones and also image software are writing a lot of 'extra-data' into your pictures. This meta data is often unnecessary (if you're not a professional photographer). These bytes could contain information about your camera or phone model, location, time, the app you used, the hardware and system you used and much more. MetaCleaner was created to get rid off this huge data block by cutting out the pure grafics data and writing it into a clean file. In some cases it can reduce the file size of your photos massivly.

I once developed this tool to clean up and resize hundreds of photos from my phone with one click. And i didn't want to open every single picture to add my copyright text in it, so i added the copyright function.

Meta data could contain sensitive and sometimes privat information about you and your device usage. Not always but often when you use photos from your phone. Hidden data that you may not want to share with others or services on the Internet. After analysing these data i saw that in most cases, this data block is larger than the pure image part.

Some social networks and other web services are reading and using this informations to tag you, identify you and of course for their daily spam. After these server driven programs had read out all needed meta content, your image will be recompressed before shown in your posts. Some devices produce a huge load of meta content which then doubles or triples the file size. The more programs and apps you use to work on an image file, the more you blow up its file size.
Most image software adds it's own data into your files including informations about your system and hardware.

How to:
MetaCleaner was developed for everyone. It's free and comes with a simple user interface. There's not much to do wrong.
Just load your image files to a list, maybe add a copyright text which will then be added to all pictures in your list, adjust output quality and final procentual size and click 'start cleaning'.

The app will ask you where to store the cleaned image files. After selecting the output folder the cleaner module works through your image list - file by file, removing meta data, writing your copyright, recompressing and resizing all files.
If you activate the checkbox 'Copyright Text', a text input appears at the bottom of the image preview. Scroll down the image preview if your selected image is too large for your screen. The text you type into the copyright box will be added to all images in your list as soon as the cleaning process starts.
You can also add some experimental image effects... just for the case ;-) but be careful on using them on large images (could take a while, the fx module is still in work so its more a beta feature).
The program will give you advise (hopefully all errors are catched now) if you forgot to add files and some other things. The black text area on the upper left shows a log where all current propram actions are listed.
No installation needed:
Just unpack the zip-file (right click > unzip package (use standard windows unzipper)) It should run without problems on Win 7, 8, 10.
PLEASE message me or give me any information, if you have any problems so i 'll try to help you. If you have any ideas how to improve that tool, please let me know.

'MetaCleaner for Imagefiles' is free of ads and commercials.
It doesn't need an internet connection to work, nor does it send any informations about your system, so it's up to you, to look for updates in some time. ☺
Maybe the windows smartscreen filter will warn you about using unknown apps, so don't worry i just don't have the money to certificate this app. ;-)

Download
Click download now to get access to the following files:
metacleaner-windows.zip
130 kB